Heat Treatment is a process during which wood is heated in a closed chamber until it reaches a core temperature of 56°C (133°F) for at least 30 minutes. This is done to kill pathogens such as insects, fungi, and other microorganisms.
There are currently many countries around the world that are in the International Plant Protection Convention. Member countries agree to certain trade regulations and laws, including treating wood packaging in a way that eliminates any pests. This requirement is known as ISPM 15, and can be satisfied through heat treatment or chemical fumigation.
We use heat treatment to ensure ISPM 15 compliance because it:
Carries no health risks
Has no negative environmental effects
Reduces costs
Additionally, heat treatment is more cost-effective and allows those savings to be passed to customers. Over time this cost reduction can add up to a significant amount, especially for high-volume exporters. Heat treating also does not require transport to specialized fumigation facilities, which also reduces turnaround time.
Our mission:
Responsible solutions for food loss due to storage pests
Control of quarantine pests associated with wood packaging material for international trade
Our services:
To prevent insects presence in the pallets and wood packaging material used in the transport of packed goods according to the international standards for phytosanitary measures (ISPM 15).
Fumigation: Protection against storage pests of foodstuff, tobacco, animal feeds, furniture, icons, valuables
Heat treatment: Of pallets or any other wood packaging material used for transport of packed goods across the continent to conform to the international standards for phytosanitary measures (ISPM 15)
Heat treatment, why?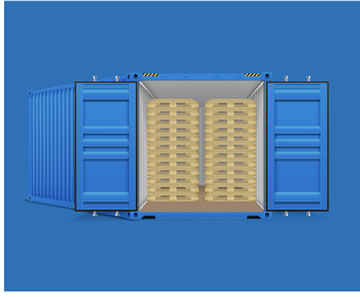 Wood packaging material in international trade can spread pests which can lead to serious problems around the world
Globally approved measures under FAO reference ISPM 15, 2002 International Standards for phytosanitary measures) has been established to reduce this threat
If these measures are not applied on the wood packaging materials this could lead penalties of non-compliance and could cause the refusal and re-export from the receiving country.
Heat treatment requirements:
WPM (Wood Packaging Material) should reach a minimum core temperature of 56° C for a minimum period of 30 minutes according to (ISPM Pub.No. 15, 2002)
Our heat treatment unit is located in our in Hosrayel (industrial zone) and has the following qualifications:

Computer assisted control of temperature versus time
Heat treatment certificates:
After the heat treatment, we provide our customers with:
Certificate of heat treatment recognized worldwide: referred to as a pest control certificate, is a document that serves as confirmation that any wooden packing materials (i.e., pallets) used in a cargo shipment have been fumigated.
Stamp every pallet, box, crate in your cargo with the heat treatment globally recognized Mark granted by our Ministry of Agriculture under Ref number LB 003 HT
Printed graph showing heat development versus time as additional proof showing minimum core temperature of 56° C for 30 minutes as required